To start off 2012 with a bang, The Human Imagination presents artwork created by the 7th and 8th graders of Prince David Kawananakoa Middle School. This month's First Fridays installation, titled "Value in the Role Model," showcases scratchboard art, which draws upon the students' own research and interpretation of whom they see as role models; people that they can aspire to be, respect, draw inspiration from, and look up to. The portraits that will be on display are a culmination of an arduous 5 week unit that primarily addresses value as one of the important elements of art. Special thanks to their teacher OJ Tambio for the opportunity to showcase the Kids Art.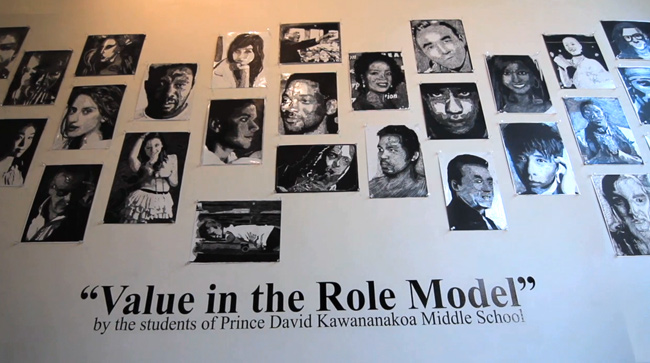 Opening reception – First Friday
January 6, 2012
5:00pm – 10:00PM
The Human Imagination
1154 Nuuanu Ave., Honolulu, Hawaii
(Corner of Nuuanu & Pauahi)
808-538-8898
Hosted by: Arts for Education Program and Flux Hawaii Magazine
Video Filmed and edited by Phillip Lemoine – SVP Studio.