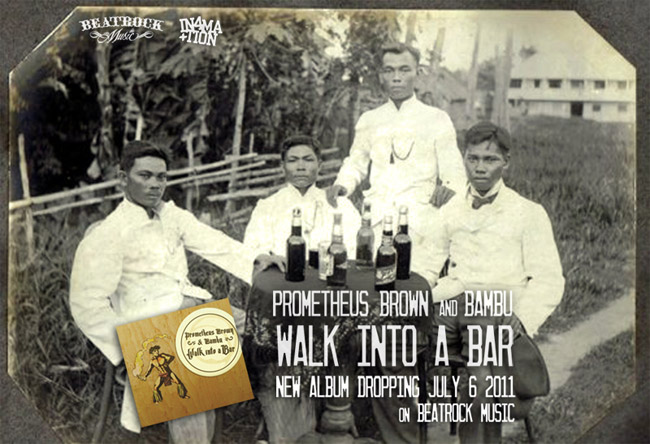 Prometheus Brown (aka Geologic of Blue Scholars) and Bambu have been friends for a very long time. As artists and activists, they're careers have afforded them the opportunity to work together through live performance and on a few occasions as features on songs. Unfortunately, these two have never been in a space where they could sit, formulate and execute an entire project together, though it has been something the fans have inquired about and something Prometheus Brown and Bambu have wanted to do for a very long time.
Fast forward to the Winter of 2010. Prometheus Brown and Bambu were brought out to Honolulu by the University Of Hawaii's Ethnic Studies Department to hold a few workshops with the college and speak to local high school students about community organizing and options after graduation. This week-long trip was the perfect opportunity and the best possible environment to finally create a body of work together — this is where Prometheus Brown and Bambu Walk Into A Bar began… On the island of Oahu. In between the workshops, shows and hanging out with their In4mation family, Pro and Bam sat inside Osna's recording studio overlooking the city and put together an album inspired by the people, struggles and victories of Hawaii.
On July 6, 2011, Pro and Bam will return to the island to celebrate the release of the project! Prometheus Brown and Bambu Walk Into A Bar will be released digitally and in limited edition physical copies on the Beatrock Music Label imprint in collaboration with In4mation! Stay tuned by logging on to the In4mants blog (http://in4mants.com) and be in the loop regarding the release! Mahalo!