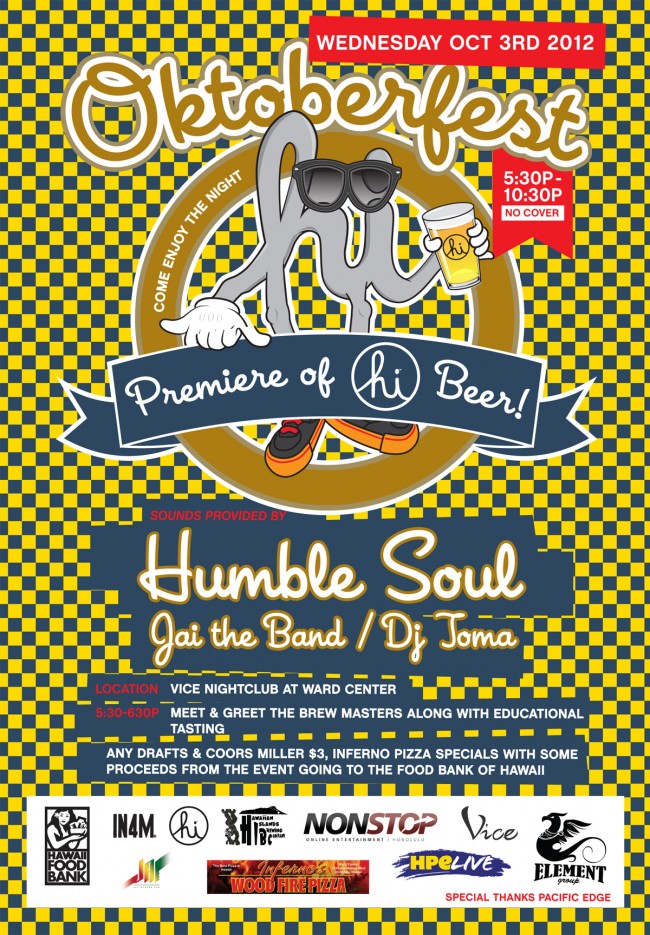 A testament to the multifaceted nature of In4mation, the brand is proud to announce the release of HI Beer, the company's own signature suds. Made with the help of Hawaiian brew master Greg Yount, HI Beer pays homage to Hawaii's love affair with the post-work/surf/skate drink with a few friends.
"We've always been really proud of the fact that, because we're not a big corporate company or anything, we can do one-of-a-kind projects like this and make our own signature beer," says In4mation's Jun Jo with a laugh. "I think a cold beer with friends is really a part of the fabric of social life in Hawaii. Whether you're barbecuing at the beach or just cruising with your friends, relaxing over a beer with people you care about is part of Hawaii and we're really fired up to be a part of it…plus, we like to drink beer, so it's easy to get excited when you start making your own."
In4mation's art director, Keith Kanagusuku, is also an adamant supporter of the post-work brew.
"I think a pau hana beer is really a part of life in Hawaii for sure. That first sip after a long day is something I think a lot of us look forward to and it's been an amazing experience working on the creative for the beer," says Kanagusuku. "Never in a million years did I think I'd be working on a project like this. We actually created a mascot-type of character to go along with the beer and our upcoming line. It's called the HI guy and he sort of embodies the lifestyle we're living now. We're all really excited to get it out there."
Beginning in mid October, HI Beer will be available on tap at select bars on Oahu.
In4mation will be hosting a release party for HI Beer on Wednesday, October 3 at Vice Nightclub at Ward Center. The event will feature tastings of the beer and a live show by Humble Soul. There will be additional drink specials with a portion of the proceeds benefiting the Hawaii Food Bank.