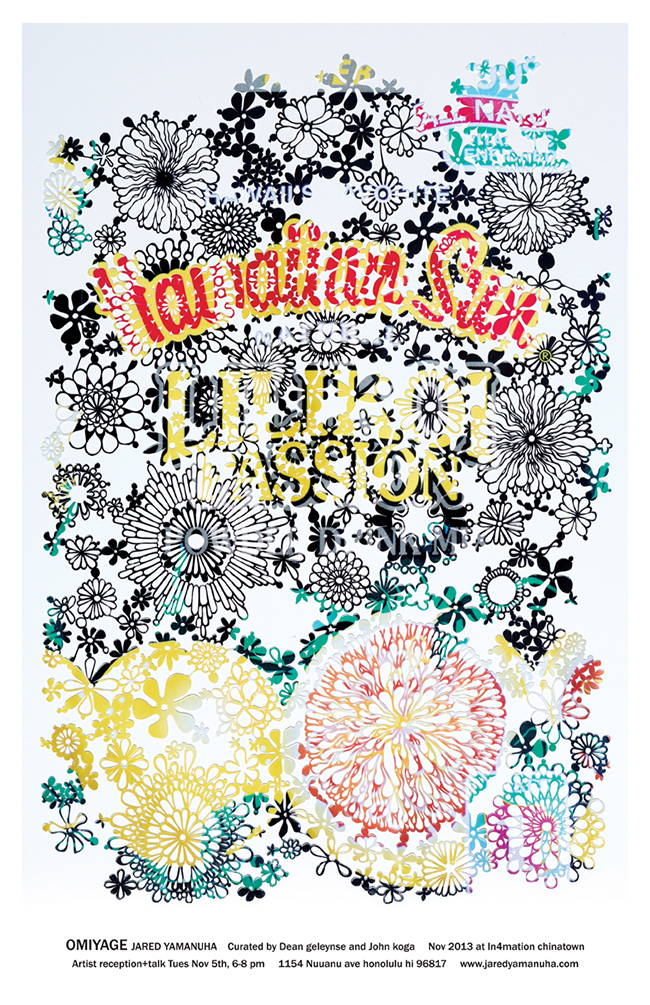 In4mation is pleased to announce that they will be hosting Omiyage, an exhibit composed of the work of Jared Yamanuha. Curated by the likes of famed Hawaiian artist John Koga and esteemed art enthusiast Dean Geleyense, Omiyage will be showcased at In4mation's Chinatown storefront, located at 1160 Nuuanu, throughout the month of November. Opening night for the event will take place on November 5 at 6 pm and include a talk from the artist.
At only 31 years old, Jared Yamanuha has quickly made a name for himself in the Honolulu art world. But his latest collection, Omiyage, has perked the collective interest of curators and enthusiasts throughout the islands. By seamlessly blending his own photos of iconic Hawaiian brands and images with expertly detailed paper cuts, Yamanuha has created something that is undeniably true to the islands and a work that is all his own.
"The whole collection is centered under the idea of 'omiyage' or the Japanese act of bringing small gifts back to friends from abroad. All of the pieces in my collection make reference to that tradition," said Yamanuha. "I feel that I was able to authentically showcase a slice of Hawaii."
When it comes to the artwork itself, Yamanuha was meticulous in his approach to detail. "I really wanted to introduce my hands back into the work. As far as the ornate paper cuts are concerned, I wanted to put as much detail and intensity into them as possible. I tried to treat the photos as raw material and transform them into something else. What a lot of people may not notice when looking at the collection is that it's all derived from single sheets of photo paper."
Dean Geleyense and John Koga, who acted as curators for the show, are both very excited to unveil Yamanuha's latest work to the public. "John and I are very proud to promote such a talented, young local artist. This work really appealed to us. Between the obsessive attention to detail and the way he blended that with these iconic Hawaiian brands—well, it's easy to get excited about it once you see it," said Geleyense.
"It's been really rewarding trying to expose young artists like Jared to the public. There's a lot of talent in Hawaii, and Dean and I are trying to find local artists, and get them the exposure they deserve," said Koga. "It's a lot of fun and I'm really looking forward to the show."
For Jun Jo, In4mation's marketing director, it was easy to jump at the opportunity to display this exhibit. "One of the great things about our Chinatown location is that it doubles as a retail store and gallery. We're always excited to work with local artists like Jared. I think this exhibit will really speak to a lot of people. Hawaii is home to so many talented people and we're thrilled to help promote them and their work at our Chinatown location."
In February and March of 2014, Yamanuha will also be showcasing his work via a museum group show in San Francisco at the Museum of Craft and Design.