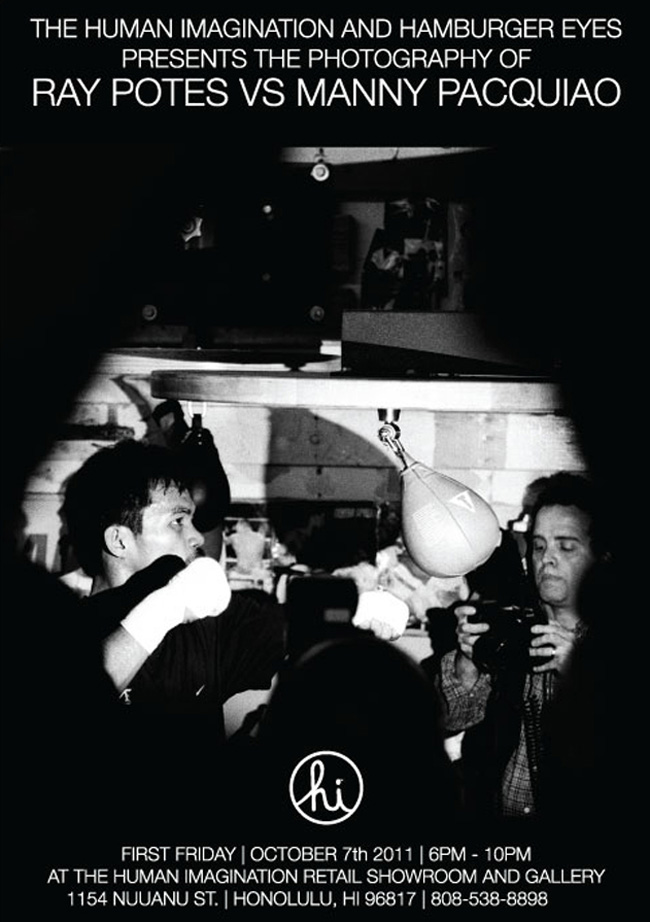 The Human Imagination & Hamburger Eyes presents the photography of Ray Potes vs Manny Pacquiao. Ray has been chipping away in the photography world documenting iconic moments of the everyday life. For this first friday, October 7th, 2011 we'll be curating photos of Ray's recent photos of the peoples champ, Manny Pacquiao while in training for his upcoming fight this coming November. Hope to see you there!
HAMBURGER EYES
When opening Hamburger Eyes Photo Magazine you enter a pictorial history of both the unseen and iconic moments of everyday life. It is organized in such a way that it has become many things to many people. As a photo journal, we share our travels and experiences. As a photo diary, we share our accomplishments and heartaches. And as a photo album, we share our families and friends and reach people on a level they have been familiar with since their first birthday party. Our publication is currently composed of black + white photography. We have contributions from photographers of all levels. Inspired by the traditions that began with National Geographic and Life Magazine, we hope to revitalize the sensation of photography as a craft as well as a tool to record and document.
Hamburger Eyes Photo Magazine is based in San Francisco and published bi-annually. Hamburger Eyes is off-set printed in black and white on glossy stock, perfect bound with a cardstock cover, holding 150 pages at a run of 3000 copies. Hamburger Eyes is carried in shops, stores, libraries, galleries, and museums across the entire planet.
Recently, Hamburger Eyes has upped its commitment to photography and photographers. We have joined with Colorarts Photographics and expanded into a full-service, professionally maintained darkroom facility: Photo Epicenter.
We are committed to bringing you our world-class magazine PLUS an excellent, professional facility where you can learn, produce, and publish your photos. We take this commitment seriously, and maintain the best darkroom equipment in natural light viewing areas.
Visit http://www.photoepicenter.com for more info.
CONTACT
HAMBURGER EYES
26 LILAC ST
SF CA 94110
info@hamburgereyes.com
PHOTO EPICENTER
26 LILAC ST.
SF CA 94110
people@photoepicenter.com