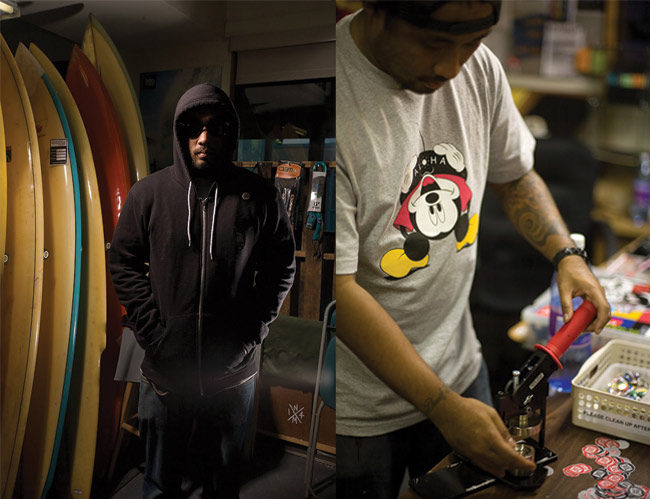 Amy from Hobnobcity stopped by to interview our very own Rhandy Tambio. Here's some photos and excerpts from the interview she did. For the full interview you can go here.
HNC: Tell me about the work that you do and companies you work for?
RT: HmmmmI would like to say that I'm more of a commercial artist above anything else cause I like to make money for what it's worth with everything it supports from my graphic designs, garment design, illustration, photography, video editing, and personal experimental stuff. I try to be more business oriented with everything I do. I've learned the hard way by having a lot of not so awesome experiences building my career where it was a big learning curve to how I operate today.
I've been into design since high school and with the support from my peers, couple of creative mentors, and my older brother. I have worked with several urban and action sports companies from Los Angeles all the way to chipping my teeth career wise in New York for 7 years from companies and projects from Stussy, The Skateboard Mag, Vans, Alphanumeric, DC Shoes, DVS shoes, Etnies Shoes, Casio Gschock, Fiberops, to being in a corporate environment such as Ecko Unlimited, Marthie Francois Gibaud and Akademiks Womens with In4mation my main priority as creative/art director almost making the 10 mark with my business partners.
HNC: Let's talk about your history (creatively) leading up until now. Through your eyes, how has the fashion culture that you are involved in changed from then till now. What direction do you see it going?
RT:Fashion will always be forever changing and self expressive to each individual and with the help of the interweb it's making everything easier to get things, see what's going on in other suburbs, urban cities and countries making the world a seem smaller than it actually is, making the individual be more influence by others style than his own or being able to get a certain item without traveling.
When I was in my golden years what you did like skateboarding, surfing and what type of music you'd listen too or places you traveled is what defined more of your own sense of fashion.
Fashion should give you that emotional confidence not a status symbol.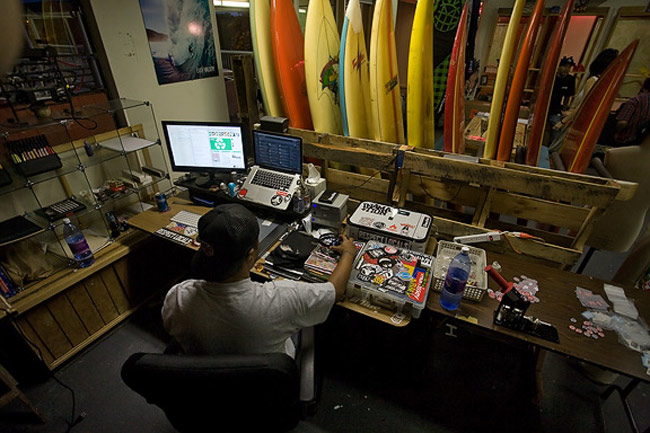 HNC: What were some of your early inspirations that led you into what you do currently? What are some of your current inspirations?

RT: It's all what I would like to surround myself by skateboarding, surfing, and music being the backbone.

HNC: What is the overall feel or vibe that you want your work to communicate? What is your ultimate goal?

RT: I want people to see the effort and the thought process going to every detail and that we practice the general principles of art and design pushing ourselves to think outside the box. Having our own style whether you like it or not and being able to mimic everyone else.
photographer: brandon ching
creative director: amy of hobnobcity