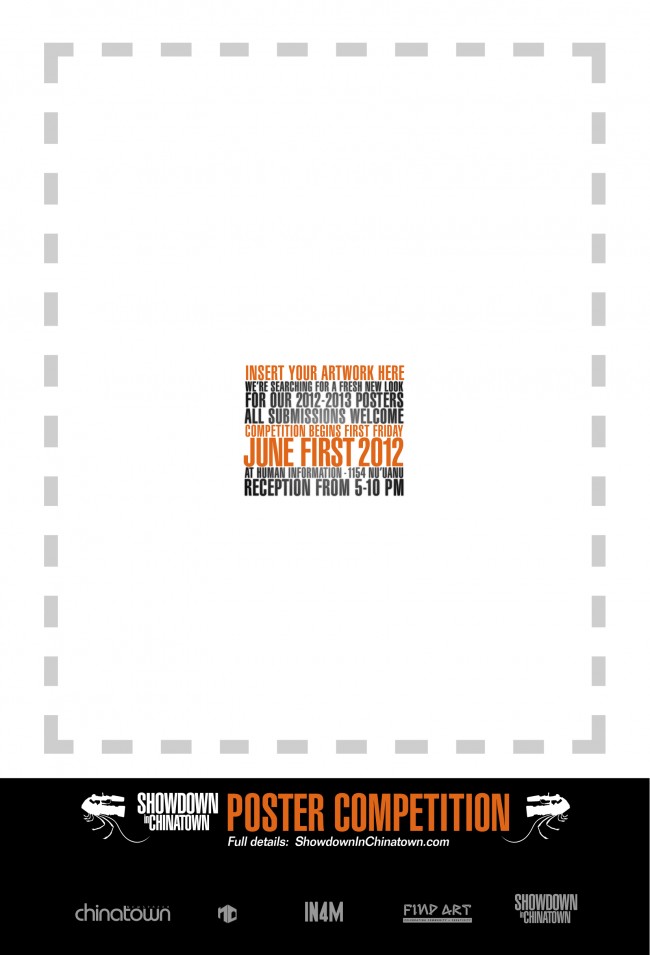 So this First Friday were gonna change it up a bit. The crew at In4mation alongside the creatives from Showdown in Chinatown will be introducing a poster contest to our Human Imagination space. There will be blank spaces where people can bring their Showdown in Chinatown specific poster art to be shown in the space for the month of June. Also this First Friday we will be showing some of Showdowns top short films at the space. Drinks will had and we will also have select merchandise available from the likes of our own brand In4mation to Showdown in Chinatown tees and long awaited Roam Hawaii Womens collection…… rules and info are below for the poster contest.
SHOWDOWN IN CHINATOWN PRESENTS: POSTER ART COMPETITION & EXHIBITION
Reception Friday June 1st
6pm-9pm Open to public
(HI) Human Imagination
1154 Nuuanu Ave
Located On The Corner Of Pauahi & Nuuanu
We are searching for a fresh new look to represent the Showdown In Chinatown 2012 / 2013 poster campaign.
TO ENTER:
o   Each artist may enter up to 2 works of art for the competition
o   Applications Available for pickup on June 1st at the Artist Reception 5pm
o   Submissions will be accepted at 1154 Nuuanu Ave and exhibited throughout the month of June at Human Imagination
o   Last date to submit will be June 25th 2012
o   Works must be presented as digital images as well as a printed poster
o   Digital image must be in Jpeg format and a 72DPI no larger then 2MB and emailed to info@ShowdownInChinatown.com
o   Printed image must be a poster 11″x17″ thick matte paper
o   Please incorporate the SIC logo in your poster art… click here to download the logo vector art .  You can use the text and icon separately if you like… be creative.  We just require that you use both.
o   Selected artists will be notified and exhibited on Saturday June 30th with Find Art: Celebrating Community & Creativity
o   Prizes will be given to the top three posters and will be selected as the new face of Showdown In Chinatown 2012/2013.
Direct questions to: Info@showdowninchinatown.com
o   NOTES: The top 15 posters will be exhibited throughout the month of June at Human Information. Non-digital works will be accepted for display, but must be translated to a digital file before June 25th.  All works must adhere to the poster art requirements listed above.  Prizes TBA