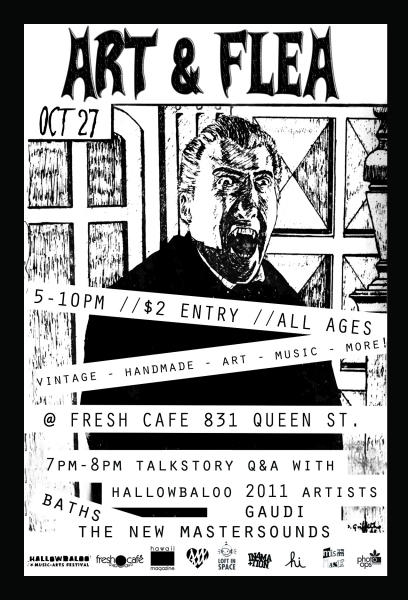 Stop by for a quick "bite" and stay to shop at this month's Art & Flea Vintage VAMPS! Come dressed to kill in your vintage attire , fangs and capes. Enter our Vampire costume contest to win tickets to Tonights Bath's show, Warpaint at Aloha Tower or CLUB Hallowbaloo shows Saturday, October 29 !
Don't have a costume? Get one here!
Art & Flea is a monthly event hosted Every 4th Thursday at Fresh Cafe and is comprised of a wonderful collective of artists , musicians, jewelers, crafters, performers, designers , collectors & more!
This month Hallowbaloo & Art & Flea are reaching out to the community to give them a chance to connect with touring musicians. Art & Flea will play host to a special Talk Story Q& A with Hallowbaloo musician's Baths, Gaudi & New Mastersounds. Come find out about what its like to be a recording artists, what they like to eat, favorite books, thoughts on Hawaii and what ever else you might like to ask them….. they might just perform a special set!
WHO: ART& FLEA
WHAT: Vintage, DIY, Art, Music & More
WHERE: Fresh Cafe 831 Queen St. Honolulu, HI 96813
WHEN: Thursday, October 27
TIME: 5-10pm
COST: $2 entry
ALL AGES
Photobooth by Photo Ops Hawaii
Live DJ sets by ADHDJ & Matt Ratt
Live musical performances by the artists of LATER MUSIC (www.latermusic.com)
Schedule
5pm – 6:15pm LATER MUSIC
7-8pm Special Talkstory with Hallowbaloo 2011 Artists
8:00pm Costume Contest
8:15pm-10pm LATER MUSIC
Detailed Info on Each Hallowbaloo Artist:
Baths: www.hallowbaloo.com/baths.html
The New Mastersounds: www.hallowbaloo.com/new_mastersounds.html
Gaudi: www.hallowbaloo.com/gaudi.html