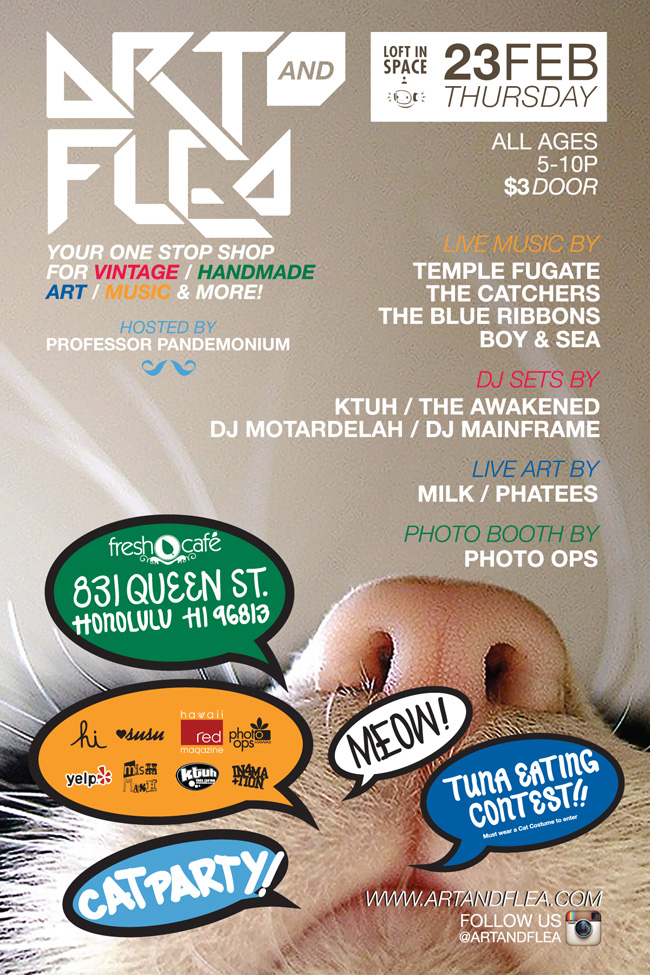 Art & Flea, Honolulu's One-Of-Kind Event is adding another exciting element to an already jam packed, fun-filled evening. In addition to the 50 plus vendors, food, drinks, live music , DJ sets, contests, photobooths, raffles and special host Professor Pandemonium, Art & Flea will now feature live art by various local and visiting artists. February's Art & Flea will feature live art by Phatees and MiLK.
Some more info about the artists:
MiLK, born in Hawaii, raised in Brooklyn, is motivated by tattoo art, cultural symbolism, and chicago blues. At 22 years old, this artist is new to the public, but not new to his craft.
Facebook – grabmilk Instagram – @grabmilk Twitter – @grabmilk
Phatees ….you will have to come and see!
WHO: ART & FLEA
WHAT: 50 plus vendors featuring Vintage, Handmade, Art , Music & More!
THEME: Cat Party~ Meow!
WHERE: Fresh Cafe x Loft in Space @ 831 Queen St. Honolulu, HI
WHEN: Thursday , February 23
TIME: 5:00pm-10:00pm
ALL AGES
COST: NEW $3 Entry
REDUCED $2 Entry ……come dressed as a cat! (paint a nose and some whiskers on your face). Upcoming events will give attendees various ways to reduce admission such as facebook contests , rsvp lists as well as participating in the themes.
Hosted by Professor Pandemonium. Be entertained and amazed by his charm and astonishing feats of the Body and Mind!
Tuna Eating Contest to win special prizes!
$1 Raffle pulled at 8pm to win prizes from our wonderful vendors, Fresh Cafe, SuSU and more!
LIve Art by MILK & PHATEES
Visiting Artist Thailan When
Hotdog & Burger's from Fresh Cafe'
Drink specials from Loft in Space
Join Cat Friends, an all volunteer organization that is Oahu's source of information and education for abandoned and feral cat issues. CF is the island's leader in the humane control of abandoned and feral cats.
Flipbooks Hawaii upstairs
PhotoOps Hawaii downstairs providing photos by donations
SCHEDULE:
DJ SETS BY
(INSIDE)
5:00pm-6:00pm DJ Dandy
6:00pm-7:00pm Maynard G
7:00pm-8:00pm Rocki
8:30pm-9:30pm DJ Motardelah
9:30pm-10pm DJ Main Frame
(OUTSIDE)
5:00pm-6:45pm DJ Ed Liu & DJ Patrick Lam "THE AWAKENED"
LIVE MUSIC BY (Visit the tent by the door)
7:00pm-7:30pm THE CATCHERS
7:45pm-8:15pm THE BLUE RIBBONS
8:30pm-9:00pm TEMPLE FUGATE
9:15pm-10:00pm BOY & SEA