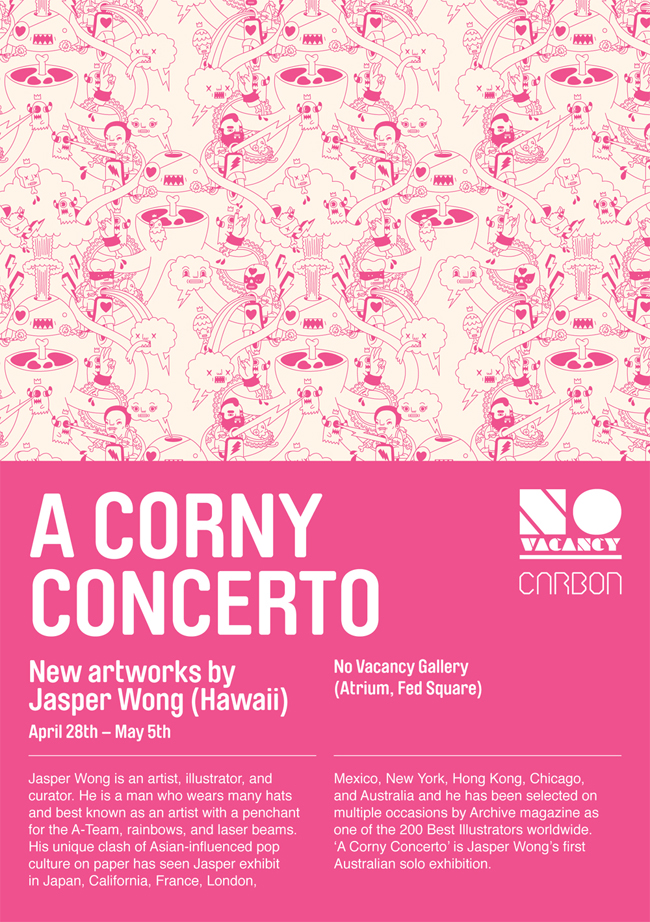 ABOUT THE EXHIBITION
" A Corny Concerto" represents Jasper Wong's first foray into the down under. This series of work further explores past obsessions alongside new ones, particularly those surrounding graphic explosions of both the comic book and sexual sense.
ABOUT JASPER WONG
Jasper Wong is an artist, illustrator, and curator. He is a man who wears many hats and best known as an artist with a penchant for the A-Team, rainbows, and laser beams. His unique clash of Asian-influenced pop culture on paper has seen Jasper exhibit in Japan, California, France, London, Mexico, New York, Hong Kong, Chicago, and Australia and he has been selected on multiple occasions by Archive magazine as one of the 200 Best Illustrators worldwide. He has also scored press in publications such as Communication Arts, Society of Illustrators, American Illustration and Taschen's Illustration Now. Jasper has added another feather in his cap as the founder of a gallery in Hong Kong called Above Second. In its existence, both Monocle magazine and CNN have chosen it as one of the best galleries in the city. Jasper is also the creator of the annual Pow Wow art events, which is an altruistic initiative to bring together artists from across the globe to partake in the beauty of the creative process. The event has received praise on an international level by the likes of Hypebeast, Booooooom, Arrested Motion, Hi-Fructose, Acclaim, Juxtapoz, Complex, amongst others.
EXHIBITION DETAILS
"A Corny Concerto" new works by Jasper Wong
April 28th, 2012 to May 5th, 2012
Opening April 28th from 4pm to 7pm
No Vacancy Gallery
Atrium, Federation Square
Melbourne, Australia
website: www.weareallcarbon.com